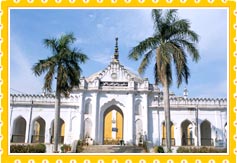 There are many places to see around Lucknow that should be visited by anyone who is traveling to the city of Nawabs. Though Lucknow itself has many places to visit, some of the places around Lucknow are also worth traveling to. These places are no less than tourist attractions and are a part of the rich cultural heritage of Lucknow. In order to know more about the famous places around Lucknow, read about the various excursions from Lucknow in this section that is titled "Lucknow Excursions".
Nawabganj Bird Sanctuary
The Nawabganj Bird Sanctuary is one of the major wildlife sanctuaries of Uttar Pradesh. This bird sanctuary can be visited as a part of excursions from Lucknow. The Nawabganj bird sanctuary in U.P. is spread over a small area of less than 3 square kilometers.
Naimisharanya Misrikh
Located at a distance of around 94 kilometers from Lucknow, is the Naimisharanya Misrikh temple. It is a major pilgrimage center and attracts devotees from all over India.
Kukrail Reserve Forest
The Kukrail Reserve Forest is located at a distance of around 15 kilometers from Lucknow. The main attractions of this reserve are a deer farm and crocodile nursery. It has been developed by the Forest Department of Lucknow and is a nice picnic spot. The reserve forest also has a Children's Park, rest house and cafeteria. The animals that are found here in their natural habitat are a variety of deer like Sambhar, Black Bucks and Spotted Deer. The forest reserve also has a good collection of birds.
Deva Sharif
Located at a distance of around 25 kilometers from Lucknow, the Deva Sharif is an important place of worship of not just the Muslims but also the Hindus. It is basically the tomb of the revered Sufi saint, Syed Haji Waris Ali Shah. This shrine attracts a large number of devotees during the months of October - November. A major festival called Urs Festival is held over here during this time in the honor of the saint.
Shah Najaf Imambara
The monument of Shah Najaf Imambara is situated on the banks of Gomti in Lucknow. The monument is still well maintained by the concerned authorities. The monument is the tomb of Ghazi-ud-din Haider and his wife who hailed from Europe. The tomb of Ghazi-ud-din Haider is done in silver while the tomb of his wife Mubarak Mahal is a more imposing structure that has works done in gold and silver. The entrance of the tomb is flanked by a beautiful garden that sprawls across the entire area.