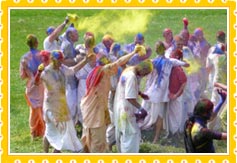 Lucknow is a place known for its rich cultural heritage. In Lucknow, festivals are celebrated with much enthusiasm and fanfare and every individual, irrespective of their caste and religion celebrates each and every festival including Eid,
Christmas
,
Valentines Day
,
Diwali
& Holi. These festivals and fairs in Lucknow provide a window to see the cultural kaleidoscope of not just Lucknow but also India. Given here are some major festivals celebrated in Lucknow that should be attended in case you are visiting this beautiful place anytime during the celebrations.
Lucknow Festival
Celebrated during the months of November - December, the Lucknow festival is a very important festival in this place. The unique and scintillating culture of Lucknow is portrayed in this festival. The Lucknow Festival is celebrated for a time period of ten days. In these ten days, Lucknow wears a grand and royal look and the whole city comes alive with joyous celebration. The Lucknow Festival is a platform to showcase the rich and unique culture, arts and crafts and the finer aspects of the lifestyle of Lucknow. Also, it is the best place to taste the lip-smacking cuisine that Lucknow is famous for.
Vrindavan Sharadotsav
The festival of Vrindavan Sharadotsav is celebrated every year in the month of October. Though it is not exactly celebrated in Lucknow, people over here also indulge in celebrating this festival that is dedicated to Lord Krishna of the Hindu mythology. This festival captures the magic spun by Lord Krishna in the form of a child and then as a young adult. The town of Vrindavan near Lucknow is decorated beautifully and the celebration is marked by much joy and fanfare.
Holi
Holi is one festival that is celebrated all over India with great enthusiasm and enjoyment. People in Lucknow indulge in elaborate celebrations. Children as well as adults go around throwing colored powder known as "Gulal" and drench all passer-bys with colored water. Lots of sweets and special dishes are made on this occasion and people indulge in all sorts of festivities.
Diwali
Diwali is an important festival in Lucknow and is celebrated by people all over Lucknow and India. Diwali is celebrated to mark the triumph of good over evil when lord Rama killed the demon king Ravana and returned back to his kingdom in Ayodhya. People lit small lamps outside their homes and welcomed the young prince with a brilliant display of fireworks. This tradition is carried on till date and Lucknow looks like a wonderland on the eve of Diwali when it is illuminated by thousands of little lamps. Here is a site that has short-listed some of the popular
Diwali gifts
for you to send across to your loved ones in Lucknow.
Dusshera
Dusshera is an important festival of Lucknow and people celebrate it in the honor of Lord Rama who killed the demon king Ravana. On this day, huge effigies of Ravana and his two demon brothers are put up in various parts of the city and are set afire by people dressed up as Lord Rama. The battle scene is enacted first and the effigies are set afire when Ravana gets killed. It is a time to indulge in celebration and enjoyment.
Karva Chauth

The pious festival of Karva Chauth is the day of ritual fasting for married Hindu women and is celebrated in Lucknow and rest of the country with great devotion. The festival is observed nine days before the festival of Diwali on the fourth day of the new moon in the Hindu month of Kartik. It is believed that women who observe the fast strictly on this day, which includes going without food and water throughout the day, are blessed with a happy married life and longevity of their husbands. Mother-in-law and daughter-in-law exchange
gifts on Karva Chauth
with each other. Husbands also give gifts to their wife on this special day.