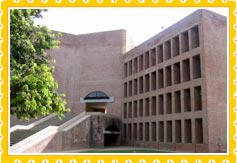 Regarded as one of the best
MBA colleges of India
, IIML or Indian Institute of Management, Lucknow is a famous landmark of this historical city. It is situated on the outskirts of the city and is treated at par with excellence for imparting training in management science.
IIM Lucknow
was established in the year 1984. Read on to know more about this reputed management institute of Lucknow.
Vision of IIML
To develop a strong entrepreneurial spirit among students of IIML and also the society at large
Courses Offered
The institute offers courses in Post Graduate programme that is for two years. The first year courses include:
Marketing
Finance And Accounting
Operations Management
Information Technology And Systems
Business Environment
General Management
Human Resource Management
Decision Sciences
The second year courses include the following:
Marketing
Finance And Accounting
Operations Management
Strategic Management
Information Technology And Systems
Business Environment
Human Resource Management
Decision Sciences
Communication
Compulsory Courses
Fellow Programme in Management (FPM)
The Fellow Programme in Management (FPM) is a four-year course that aims at providing a thorough understanding of the issues at a micro level of an organization in order to be able to relate them to the macro level issues. It prepares young entrepreneurs to serve not just an organization but also tackle problems at the country level.
Student Exchange Programme
The institute also offers student exchange programs. In order to make sure that there is an all round development of an individual's personality, IIM Lucknow initiates this program in which students from the institute go to business schools around the world to do their studies. Also, other students from foreign business schools come to IIM Lucknow to learn more about the outlook of one of the major management schools of India.
Facilities Offered on Campus
IIM Lucknow is spread over a sprawling area of 200 acres and has facilities that are at par with excellence. IIM Lucknow is an institute that offers residential accommodation to almost 500 students and 75 staff members. The institute is no less than a small city. It has everything that makes learning an enjoyable experience. The institute has a state-of-the-art computer lab, library, telephone booths, post office, restaurants and cafeteria, communication centers, medical center and transport facilities. The institute also has its own shopping mall! Alongwith studies, much emphasis is laid on sports and the institute has its own latest sporting facilities.
Admission Procedure
The admission process to get into IIM Lucknow is quite tough. A highly competitive exam known as CAT (Common Admission Test) is conducted all over the country once a year. The CAT is considered to be one of the toughest exams in India with a success rate of less than one in a hundred. All IIM's have their own ways of evaluating students who clear the CAT. Some institutes conduct personal interviews while some conduct GD's (Group Discussions).
The general category has around 50% seats for which there is tremendous competition. According to a survey done in 2006, around 195,000 students competed for less than 1200 seats in the general category. The process does not end at clearing the CAT. A student must pass the rigorous interviews and Group Discussions to gain a seat at the IIM.