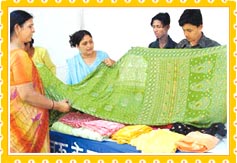 Lucknow chikan is perhaps one of the finest works of embroidery that one can find here in India. It is known for its exquisite style and fine needlework and is unparalleled when it comes to refinement. The Mughal queen Noor Jehan revived this style in 655 A.D. in India. Lucknowi Chikan Kari gained an entirely new look as it was much preferred and supported by the Mughal rulers. This lead to further refinement and improvement of the Lucknow Chikan embroidery work. Today, Lucknowi chikan Kari is synonymous with fashion and is worn by almost every celebrity at least once.
Lucknow surely enjoys undisputed supremacy in producing India's finest chikan embroidery. However, chikan embroidery was never this famous a few years back due to lack of exposure and the reluctance of the craftsmen of Lucknow to alter the original designs according to contemporary tastes. But due to increasing demands and the much wanted media exposure, the newer generation of Lucknow craftsmen are producing newer designs and patterns that has led to its popularity not only in India but also all over the world.
You can find chikan embroidery in almost each and every piece of garment. Not just women, even men are known to wear chikan embroidery shirts and kurtas. Every pattern is unique and has its own charm. Apart from clothes, one can find chikan embroidery in bed sheets, cushion covers, pillow covers and table cloths. Chikan embroidery combined with crystal work and embellishments can make anyone look and feel royal and elegant. So make sure you shop for Lucknow chikan embroidery apparels when you go shopping in Lucknow.