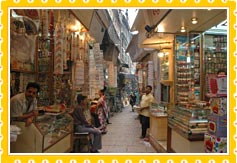 Your trip to Lucknow will remain incomplete if you don't head out to famous shopping places in Lucknow. Shopping in Lucknow is fun as it is an entirely different experience. The city of Lucknow does not have many glittering malls and multiplexes, yet shopping in those little markets for knick-knacks and souvenirs has its own different charm. You wouldn't have to decide what to buy in Lucknow, as the place is very famous for quite some things. For more information on where to shop in Lucknow, read on.
The first thing that comes to mind while talking about shopping in Lucknow is of course the famous Chikan work of Lucknow. No, it has got nothing to do with eating chicken! Chikan is a very famous thread work that is done by the skilled craftsmen of Lucknow. It is combines with Zardosi (embroidery with gold and silver threads) and crystal work and embroidered on clothes for women, men, kids, mats, bed sheets, table mats and just about anything you can think of. They make great gifts and beautiful souvenirs.
Lucknow is also famous for its shops of jewellery and ornaments. Right from the nose pin to the waistband, you name it and they will have it. These exquisite works of jewellery are exclusive and are found only in Lucknow. The jewellery pieces have unique work of metal ornamentation that looks splendid. Another famous type of jewellery found there is the Jadau, which means jewellery in which gems are studded. Lucknow is famous for its big danglers and Jhumkas that are found in the wardrobe of each and every girl.
Lucknow has its own share of shopping places. Although you may not find many big malls, one finds some malls that have sprung up here and there and are often thronged by youngsters who come to shop for branded stuff. Some of the major and famous shopping places in Lucknow are Aminabad, Kapoorthala, Hazratganj and Janpath. For exquisite jewellery, you can go to Gadbadjhala, which is quite reputed for its exquisite jewellery works. Among the malls, one finds some malls like Sahara Ganj, Fun Republic and East End Mall. One also finds some multiplexes like PVR, Waves and Fun Cinemas, which provide entertainment around the clock.
Lucknow chikan
Lucknow chikan is perhaps one of the finest works of embroidery that one can find here in India. It is known for its exquisite style and fine needlework and is unparalleled when it comes to refinement. The Mughal queen Noor Jehan revived this style in 655 A.D. in India. Lucknowi Chikan Kari gained an entirely new look as it was much preferred and supported by the Mughal rulers. This lead to further refinement and improvement of the Lucknow Chikan embroidery work. Today, Lucknowi chikan Kari is synonymous with fashion and is worn by almost every celebrity at least once.