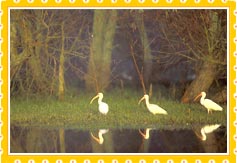 The Nawabganj Bird Sanctuary is one of the major wildlife sanctuaries of Uttar Pradesh. This bird sanctuary can be visited as a part of excursions from Lucknow. The Nawabganj bird sanctuary in U.P. is spread over a small area of less than 3 square kilometers. The Nawabganj bird sanctuary is a major hub for migratory birds that visit this place during winter months. The best season to visit this sanctuary is from November to March, since this is the time when many species of migratory birds come here.
The main area of the sanctuary is around a shallow lake, which serves as the perfect place for migratory and water birds to dwell around for a while. The Government of India declared Nawabganj Bird Sanctuary a protected area in the year 1984. The sanctuary is a paradise for photography enthusiasts. The sanctuary also a Bird Interpretation Center, which gives knowledge about birds an their behavior in detail. From Lucknow, the sanctuary is located at a distance of around 35 kilometers.
The sanctuary has some very rare birds that come visiting during the migratory season. These birds come from as far as Europe and Siberia, traveling a distance of around 5000 kilometers every year. These birds include Graylag Goose, Pintail, Cotton teal, Red Crested Pochard, Gadwall, Shoveller, Coot and Mallard. Other residential and local birds include Spotwill, Sarus crane, Painted Stork, Peacock, White Ibis, Dabchick, Whistling teal, Open billed stork, White necked stork, Pheasant tailed jacana, Bronze winged Jacana, Purple moorhen, Lapwing, Tern vulture, Pigeon, King crow, Indian roller and Bee eater.