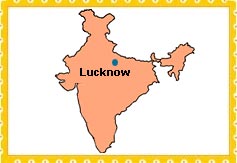 The location of Lucknow is in the state of Uttar Pradesh in India. Situated on the northern Gangetic plains of India, Lucknow is the capital city of Uttar Pradesh. The geographical location of Lucknow is between 26.50o North and 80.50o East. Lucknow is located at an elevation of 123 meters above sea level. This city was known by the name of Awadh during ancient times.
Located in the plains of the northern India, Lucknow's location is responsible for the diverse weather patterns and climatic changes. It does not have a uniform weather throughout the year and experiences extreme summers and extreme winters. The total area covered by Lucknow is around 3204 square kilometers. The location of Lucknow is what makes it easily reachable by air, rail and road.
Lucknow is famous for its beautiful gardens, ancient architectural ruins, prestigious educational institutions and rich cultural and historical legacy. It is located in center of the state of Uttar Pradesh. The city is flanked by Sitapur district in the north and Rae Bareli on the south. The Unnao district lies on the west and in the east is located Barabanki district. The city has River Gomti flowing right through it, dividing it into parts.
The city of Lucknow is famous for its educational institutions and has some of the most prestigious institutions located here. Popular ones are
Lucknow University
, Indian Institute of Management (IIM), La Martiniere College, Rani Laxmi Bai Memorial School, Loreto Convent, Delhi Public School, The Cathedral, etc. The place is also famous for its research institutes like National Botanical Research Institute (NBRI), Central Drug Research Institute (CDRI), Industrial Toxicology Research Centre (ITRC), Indian Institute of Sugarcane Research (IISR), etc.