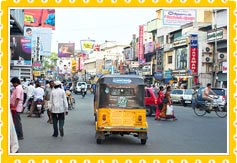 Local transport in Lucknow is easily available round the clock and rest assured that you would never have a problem with moving around in Lucknow. There are a variety of options to choose from for moving around here and there. In Lucknow, local transportation is very affordable and the most convenient way to explore this city. In order to know more about the various means of public transport in Lucknow, read the information given in the following lines.
Buses
Local buses are aplenty in Lucknow and charge nominal rates to cover long distances. These buses are run by the transport department of the state Government. There are tourist buses also that are run specifically by travel agents for tourists to look around.
Autorickshaws
An Autorickshaw is a small vehicle that has one seat in the front for the driver and a larger seat at the back for passengers. The autorickshaw is capable of accommodating around four people at a time. These are available round the clock and anywhere in the city. It is always better to bargain the cost before boarding the vehicle. If the driver agrees to charge by the meter, it is an even better option.
Taxis
Taxis can be hired from any travel agent and is one of the most comfortable options to move around in the city without any hassles. You can also ask the hotel where you are staying to arrange a good taxi for you to explore the city. it is better to fix the cost beforehand than argue later.