There are many cheap flights to Lucknow, India. Check out these flights from Lucknow.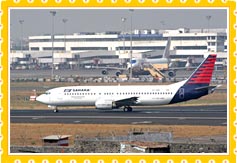 The easiest and fastest way to reach Lucknow is by air. There are a number of cheap flights to Lucknow from anywhere in India. Lucknow has its own airport at Amausi, which is located at a distance of 20 kilometers from the city center. It caters to flights from all over India. There are many different airlines from Lucknow that cater to the rest of India. There is also an international flight from Sharjah on a daily basis.
The airport of Lucknow offers world class service like Wheel chair for disabled and old, trollies, restaurants, bookstores, internet, telephone booths, etc. The airport is located at a convenient distance from the railway station also. Given here are some popular Lucknow flights that connect Lucknow to the rest of the world.