Check out the best time and peak season and decide when to visit to Lucknow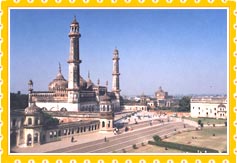 Lucknow is a wonderful place and can be visited just about anytime through the year. However, the best time to visit Lucknow is usually from October to March. This is usually the peak season for Lucknow travel. The weather in Lucknow varies from time to time and there are some extremities in the climatic conditions also. Although there is no answer as such for describing the ideal time to visit Lucknow, one usually visits Lucknow during the months of October to March.
The summers of Lucknow are pretty extreme and the temperatures can go upto 45o Celsius during the months of May and June. During winters, the temperatures can go down to as low as 3° Celsius. However, winters are pleasant and the afternoons are usually warm. The temperature is usually pleasant during October to March and this is the time when tourists flock this place, as it is easier to roam around in a good weather.