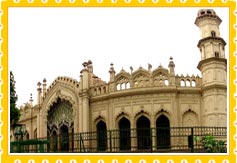 In the year 1423, Sultan Ahmed Shah constructed the Jama Masjid in Lucknow. It is built entirely with yellow sandstone and is known for its intricate style of design and architecture. The Jama Masjid of Lucknow is known to be one of the most beautiful mosques of India. The Jama Masjid is also known by the name of Jami Masjid in Lucknow. The mosque is an important place of worship for the Muslims in Lucknow who collect here on all auspicious occasions.
The Jami Masjid is located in the heart of the city of Lucknow. The structure has a combination of Hindu and Muslim architecture. The structure stands upright on 260 pillars that support 15 arched domes that different elevations. The domes are intricately designed and ornamented and are no less than an architectural splendor. The pillars have carvings that have been inspired from Hindu and Jain culture.
The courtyard is a vast area that measures around 75 meters X 66 meters. The western chamber is a big hall that is supported by 260 pillars. The tomb of Sultan Ahmed Shah lies on the Eastern side entrance. It has been beautifully preserved by the concerned authorities. Thus, one can say that Jami Masjid of Lucknow is an architectural wonder in every sense of the word.