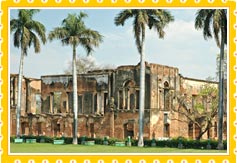 The British Residency of Lucknow is a famous historical landmark of this place. It is now in ruins and has been declared a protected monument by the Archaeological Survey of India. The British Residency was the place that served as a refuge for approximately 3000 British inhabitants during the time of the uprising of 1857. Lucknow was center of all British activities during the siege and the Residency became the monopolistic center of the British for almost 90 days.
The Residency still has within its walls, the graves of around 2000 British soldiers who died in the Revolt of 1857. The people of Lucknow tell intriguing stories of British who fled from their homes to seek shelter in these red buildings. Only a 1000 inhabitant survived this tough ordeal. On November 17th, the British troops led by Sir Colin Campbell defeated the Indian forces. Though they triumphed, it was victory in the true sense.
Today, the British Residency of Lucknow serves as a government office. The Residency also has a museum that is well-maintained by the authorities. One also finds the tombs Sadat Ali Khan, who was the first Nawab of Awadh, Kaisarbagh Palace and an observatory built for Colonel Wilcox, who was a British astronomer.