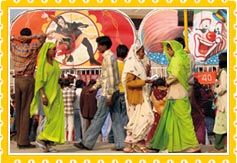 The people of Lucknow are among the warmest and the most courteous people in India. They are known to be very soft spoken and treat guests like Gods. The place has a rich cultural heritage and is known to be the city of Nawabs. The Nawabs were known for their polished and refined language and high standards of living. The lifestyle of Lucknow people was one of its kinds and the place still dwells in its old world charm. Read on about the ever-elegant Lucknow people.
The way Lucknow people indulge in the pleasures of life is truly worth seeing and experiencing. The people mix sophistication with warmth and courtesy added with generous doses of love to give you the politest language and lifestyle. They do not like to use harsh words and abuses are virtually unheard of! The city of Nawabs is known for its "Pehle Aap" (After you) culture. Though it sounds a bit outdated, it is undoubtedly chivalry at its best!
The people of Lucknow speak Urdu, which is one of the sweetest languages. The poetry and prose written in Urdu has its own charm and is a delight to listen to. The people of Lucknow have their own refined style of doing each and every thing. Even the smallest thing like rolling paan leaves and taking it with the proper etiquettes from a woman is done with the highest level of sophistication. It is popularly known as "Lukhnawi Tehzeeb", which means the mannerism of Lucknow.