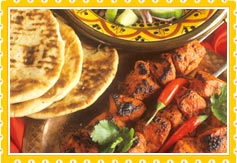 The cuisine of Lucknow has its own distinct individuality and identity. The traditional food of Lucknow was highly patronized by the Mughals thus giving it a very royal touch. The royal chefs and cooks were trained to give that distinct royal touch and regal look to anything they cooked. Every detail was accounted for and it was made sure that the food looked fit for the kings. A very high degree of flair and finesse was required to cook the elaborate Lucknow cuisine. Read on about the deliciously famous Lucknowi food.
Cooking a meal for the kings required that extra flair and touch of difference and the presentation required that extra eye for detail. The style of cooking was called as Dum style. This basically means that food was cooked on low flame. This style is carried on till date. The blending of spices in the right proportion and the right way was also not easy. It is a skill that is acquired through rigorous practice and is something that was practiced by generations to come.
The most famous dishes of Lucknow are kormas, kaliya, nahari-kulchas, zarda, sheermal, roomali rotis and warqi parathas. It is not just the ingredients that are special but also the way they are made by expert hands and the way they are presented. Just looking at an elaborate layout of Lucknow cuisine will make your mouth water. The most famous of all dishes are the Kebabs or the meatballs that come in different varieties. Some of the most famous (and delicious!) varieties of Kebabs are Kakori Kebabs, Shami Kebabs, Boti Kebabs, Patili-ke-Kababs, Ghutwa Kebabs and Seekh Kebabs.