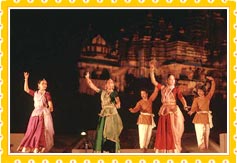 Music and dance in Lucknow has been much influenced by the Mughal rule India. The kings were known to lead a life of pleasure and their main source of entertainment was to indulge in music and dance. The royal courts had some of the best dancers and musicians of Lucknow. The performances in dance & music in Lucknow was something that was worth watching. Even today, various artists all over India keep Lucknow music and dance alive. The realm of fine arts flourished during the Mughal rule and Lucknow emerged as one of the best places to indulge in music and dance.
Lucknow is famous for its collection of classical music that is called as Hindustani classical music. The various ragas, compositions and beats were highly inspired by the poetry written by the famous poets and literary figures. Lucknow traditional music is highly evolved and every detail is taken into attention while singing so as to impart the right feel and the meaning.
The famous Lucknow Gharana was created in the royal courts of the Nawabs of Lucknow. This Gharana inspired major dance forms like Kathak, which is the classical dance of the north of India. Today, the rich tradition of music and dance of Lucknow is kept alive by various exponents and preachers through various concerts and cultural programmes.